Sailing holidays from the Ionian's largest and most diverse island!
Kefalonia, with its breathtaking beaches and crystal clear, turquoise waters will take your breath away! Pine, cypress and olive trees cover Mt. Ainos' peak, while at its foot you'll come across vineyards where the popular Kefalonian Robola wine variety is produced. Kefalonia's culinary tradition, history, picturesque villages, upbeat nightlife and pristine beaches will make you fall in love with the island.
Our fleet in Kefalonia is located at Sami Port on the north east side of the island. Sami has plenty of options for shopping and dining before or after your charter.
Our Charter Fleet in Kefalonia
Our boats in Kefalonia are available for both skippered and bareboat rentals and include a wide variety of our most popular sailing yachts and catamarans. Special charter arrangements are also available including single day charters for sightseeing and rentals for special events, including weddings and honeymoon trips.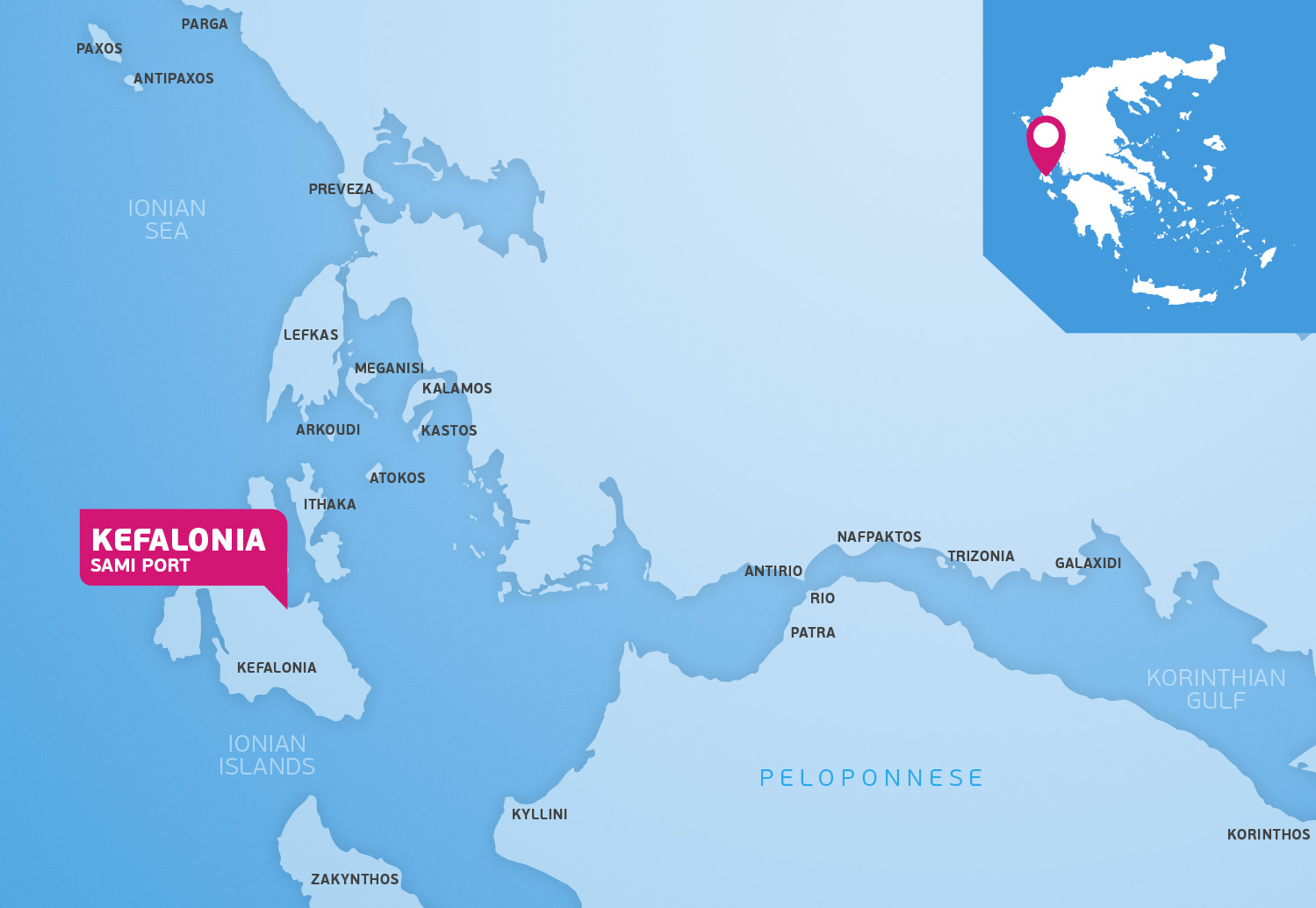 Getting to Sami Port
Sami port is situated on the northeast side of the island, approximately 34kms from the main airport of Kefalonia. A taxi ride takes between 45 minutes and an hour, depending on traffic.
Public transport options are also available. If you are arriving as a group, we are happy to organize a private transfer for you from the airport by minibus with our reliable partners, so simply let us know the details of your arrival and we will advise accordingly.
Visitors arriving at the port have the opportunity to tour the breathtaking Melissani Cave, home of the Nymphs of Greek mythological fame, just a 30 minute walk away, do their shopping and go for a swim at Antisamos beach, one of the prettiest places on the island known for its turquoise waters.
Sailing Itineraries from Kefalonia
Most charters from Kefalonia head north towards the islands of Lefkas and Corfu with many smaller islands in between!
The Northern Ionian Islands
North of Kefalonia lies Lefkas with its amazing, world famous beaches and plenty of small coves to explore! On the way the islands of Ithaki, Kastos and Kalamos are popular stops with plenty to see and do.
 North of Lefkas lies Corfu, the largest of the Ionian islands and known for being the most cosmopolitan of all. Over the course of its long history, the island has been occupied by Italian, French and English powers. A mixture of different civilizations and cultures blended together into a character that is undoubtedly Greek and truly unique.
Getting to Corfu will usually take you through the mainland ports of northern Greece including Syvota and Parga and allows you to explore the amazing islands of Paxoi and Antipaxoi along the way.