Explore the Cyclades & Saronic Gulf from Athens!
Athens is easy to reach from any country in the world through the bustling Athens International Airport. Many of our visitors reserve a few days at the beginning or the end of their sailing trip to Greece to explore this remarkable city studded with ancient ruins, spectacular museums, but also a vibrant metropolitan nightlife!
Our boats in Athens are moored at the cosmopolitan Alimos Marina on the Western coast, ideally situated for heading straight to the islands of the Saronic Gulf or sailing out to the Western Cyclades.
For those of you that are pressed for time or not interested in some Athenian sight-seeing, we also have a charter base in Lavrion, less than half-an-hour drive from the Athens Airport on the east coast of Attica and perfect if you want to be sailing just an hour or two after landing!
Our Charter Fleet in Athens
Our fleet in Alimos Marina includes a diverse range of brand new sailing yachts and catamarans to suit every taste. Our Alimos charter base is a popular starting spot for bareboat charters, and if you need a helping hand we have best skippers in Greece ready to show you around. For those visiting Athens for just a short time our small group and private day trips are a great way to experience the coastal areas around Athens aboard a luxury catamaran.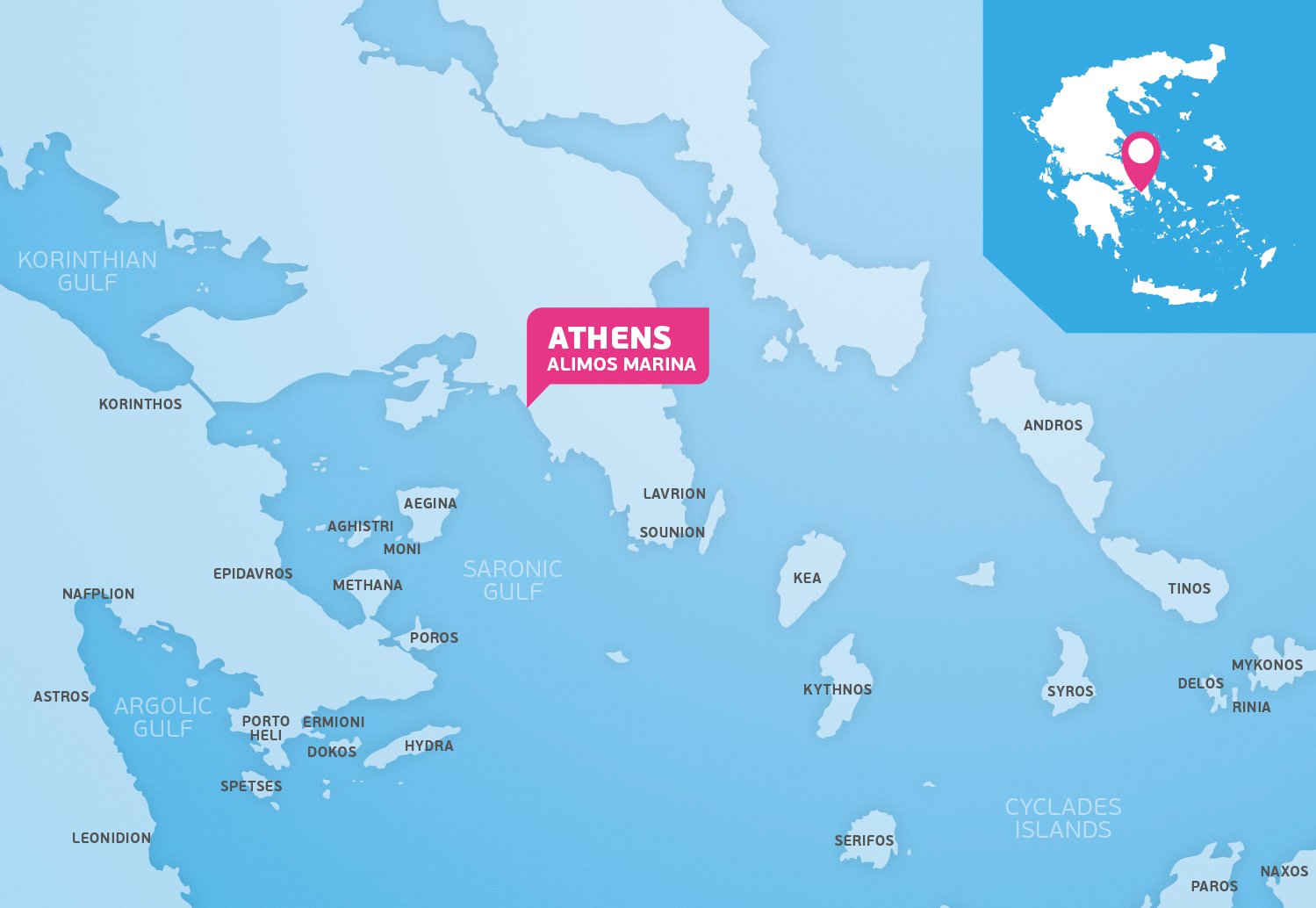 Arriving in Athens
Alimos Marina is located on the southwest coastline of Athens, just 15km from the city center, 8km south of the central Piraeus port, and 30km from the Athens International Airport, a 35-50 minute taxi ride, depending on traffic. Public transport options are also available.
If you are arriving as a group and do not want to be worried about transportation arrangements from the airport to your boat, we are happy to organize a private transfer from the airport by minibus with our reliable partners. Just let us know the details of your arrival and we will advise accordingly.
Meet the Istion Team at Alimos Marina
Welcome to Alimos Marina, where your unforgettable sailing holiday from Athens begins! Led by our base manager, Stefanos, and supported by a dedicated team including Kostas, Elena, Fyli, Taulant, John and Spiros, we strive to make every moment of your time in Greece exceptional. Together, our goal is to deliver an unforgettable sailing adventure, with a focus on exceptional service, support, and a carefree experience you'll treasure forever.
Suggested Sailing Itineraries from Athens
From our base in Athens, sailors typically follow one of two main sailing itineraries that are, broadly speaking, focused either in the Saronic Gulf or the Cyclades archipelago. Of course you are free to choose whatever itinerary you wish and we are always happy to offer suggestions and recommendations.
The Saronic Gulf
The Saronic Gulf islands of Aegina, Poros, Hydra, Spetses and the Peloponnesian coast offer smooth sailing largely sheltered from strong winds. The Saronic sailing route, centered around the gulf, is highly recommended for easy sailing, especially in July & August, when the strong northern "meltemi" winds are usually strong further south in the Cyclade. It is also preferable for a charter of less than two weeks due to the relatively short sailing times between popular destinations.
Along this route you will find breathtaking vistas of cosmopolitan island towns, ancient temples, Byzantine castles, small fishing ports and unspoiled anchorages. The wind force of the annual N-NW Meltemi is usually not stronger than force 4-5, and can be significantly lower around the Island of Poros and the Methana Peninsula. There is also a possibility for some light S-SE winds, especially close to the Peloponnesian coast.
The Cyclades
The Cyclades is a group of Islands lying amidst the amazing Aegean Sea. They are world famous for the beauty of their rough, rocky landscapes merging with the crystal-clear sea, the traditional white-washed houses and windmills, and the endless possibilities they offer for exploring and sightseeing. Needless to say, some of the islands are well-known, to put it mildly, for their nightlife (Mykonos we are looking at you).
Cruising in this archipelago definitely requires skilled, experienced sailors as the winds, especially in July and August, can easily reach Force 6-7 N-NW, with the norm being Force 4-5 N-NW (the so called Meltemi annual winds). If you decide to sail the Cyclades you should certainly consider the more famous islands including Paros, Santorini, Mykonos, Serifos and Milos. Although, in all honesty, every island in the Cyclades is a true gem waiting to be discovered and many of our guests sail the area repeatedly to visit islands they have not yet had the time to explore.
Sample 7 Day Itinerary to the Saronic Gulf
Day 1: Alimos Marina to Perdika or Agia Marina Bay
Day 1 starts at Alimos Marina where you can set sail for a relaxing 3-4 hour journey to either Perdika Port or Agia Marina Bay, both on the island of Aegina. In Perdika, you can stroll along the traditional fishing village, try local seafood at one of the waterfront tavernas, and take in the picturesque harbour views. If you choose Agia Marina Bay, you'll find a beautiful sandy beach, perfect for swimming and sunbathing. Overnight, you can enjoy the peaceful atmosphere of either destination.
Day 2: Aegina to Hydra
Today you'll sail for approximately 4-5 hours to reach the stunning island of Hydra. This picturesque island is known for its stone mansions and lack of cars. Wander through the narrow cobblestone streets, visit the Historical Archives Museum, or enjoy a leisurely coffee at a local café. In the evening, watch the sunset from the port, and take in the island's enchanting atmosphere.
Day 3: Hydra to Spetses or Dokos
Day 3 takes you on a 2-3 hour journey to either Spetses or Dokos Bay. In Spetses, you can explore the island's rich history at the Spetses Museum, stroll along the waterfront promenade, or rent a bike to tour the island. If you choose Dokos Bay, you'll find a secluded, unspoiled anchorage perfect for swimming, snorkeling, and enjoying the natural beauty of the area.
Day 4: Spetses or Dokos to Agios Emilianos Bay or Hinitsa Bay
On Day 4, sail for 2-3 hours to either Agios Emilianos Bay or Hinitsa Bay, both located near the island of Spetses. Agios Emilianos Bay offers a tranquil spot to swim, snorkel, or simply relax on the beach. If you opt for Hinitsa Bay, you'll find a sheltered cove with a sandy beach, perfect for water sports or sunbathing.
Day 5: Agios Emilianos or Hinitsa to Poros
Day 5 takes you on a 3-4 hour journey to the charming port of Poros. This island town boasts a vibrant waterfront, filled with shops, cafés, and traditional tavernas. Visit the Archaeological Museum, hike to the Clock Tower for panoramic views, or rent a scooter to explore the island's lush hills and stunning beaches.
Day 6: Poros to Palaia Epidavros Port or Agistri
On Day 6, sail for 2-3 hours to either Palaia Epidavros or Agistri (Aponistros Bay). In Palaia Epidavros, you can discover the ancient theatre of Epidavros, stroll through the quaint village, and dine on fresh seafood. If you prefer the quiet Agistri you will enjoy swimming, snorkeling, or relaxing on the beach, surrounded by the island's lush greenery.
Day 7: Palaia Epidavros or Agistri to Oni and back to base
On the final day, sail for 2-3 hours to Oni, a small island next to Aigina. Enjoy a refreshing swim on either the southern or northern side, depending on the weather. After your swim, embark on a 2-3 hour journey back to Alimos Marina in Athens, where your unforgettable sailing adventure in the Saronic Gulf comes to an end.