Explore the Ionian Islands from Lefkas!
Our charter base on the island of Lefkas (Lefkada) is perfect for exploring the Ionian islands including the popular islands of Zakynthos, Kefalonia to the south and Corfu to the north, as well as a multitude of smaller gorgeous islands in between. Given the close proximity of all these destinations, feel free to choose which islands you want to visit visit and which route you fell like taking!
Our fleet in Lefkas is located at the D-Marin Lefkas marina, with plenty of options for shopping and dining prior to or after your charter.
For those of you pressed for time, we also have a charter base in Preveza, just a mere 10-minute taxi ride from Aktion Airport, through which most visitors to Lefkas also arrive.
Our Charter Fleet in Lefkas
Our boats in Lefkas are available for both skippered and bareboat rentals and include a wide variety of our most popular sailing yachts and catamarans. Special charter arrangements are also available including single day charters for sightseeing and rentals for special events including company excursions, weddings or honeymoon trips.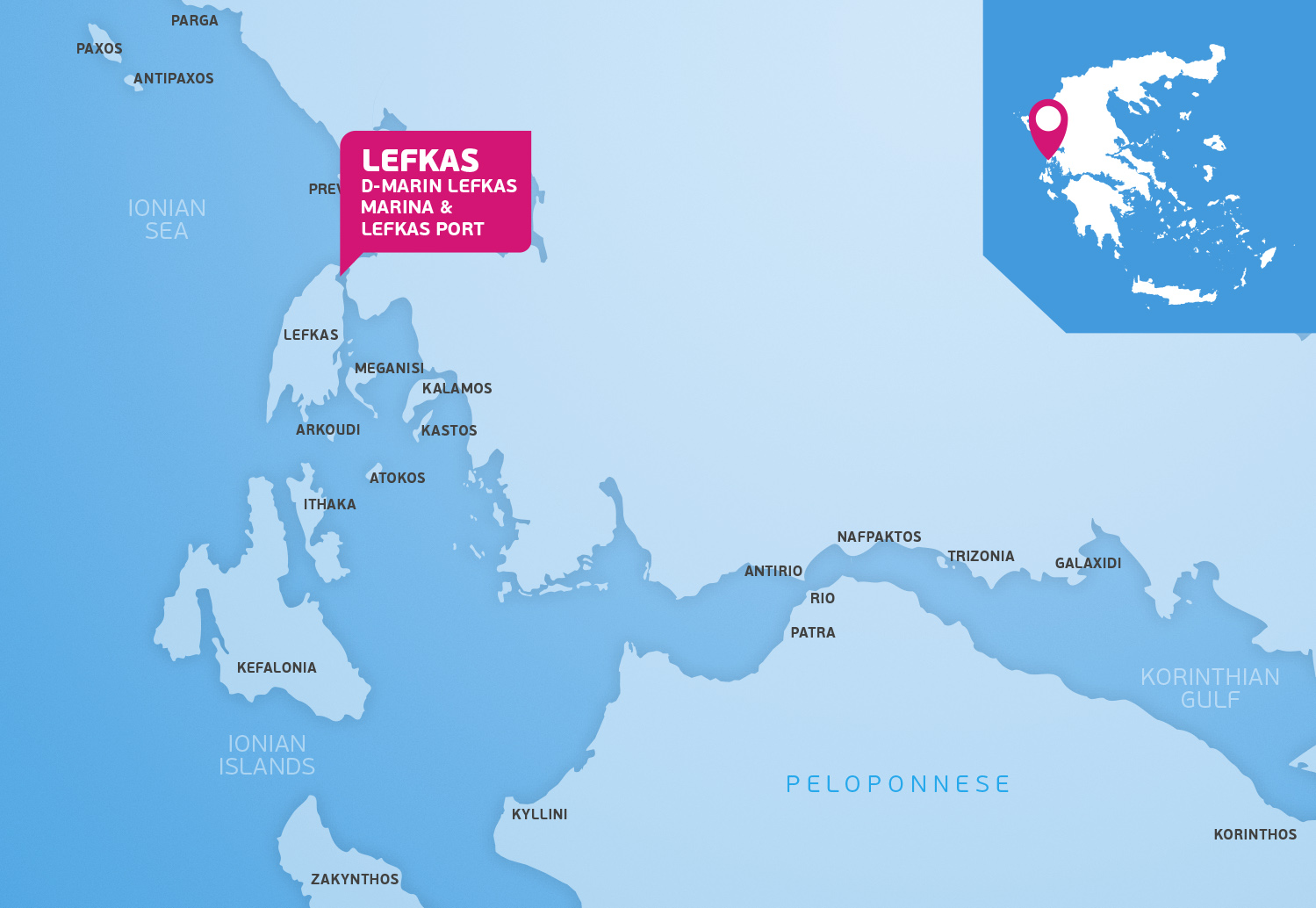 Arriving to Lefkas Marina
D-Marin Lefkas marina is located on the east side of the island, accessed from the island through a road bridge. The marina is a short 25-minute taxi ride from the main Aktion Airport (Preveza), through which most European charter flights arrive.
Public transport options are also available. If you are arriving as a group, we are happy to organize a private transfer for you and your party from the airport by minibus. Just let us know the details of your arrival and we will advise accordingly.
See more details and reviews on our Lefkas Charter base Google Maps listing.
Sailing Itineraries from Lefkas
From our base in Lefkas, one week charters typically follow one of two main sailing itineraries, i.e. either the Southern Ionian islands including Kefalonia and Zakynthos, or heading north towards Corfu. Two week charters can cover the areas both in the north and south of Lefkas.
The Southern Ionian Islands
Known for mild winds during the summer, the Ionian Sea is a sailing playground ideal for smooth sailing and family vacation, featuring endless chilling and idyllic nights in isolated bays of unique beauty. Lefkas island itself is full of tranquil coves and bays, thus making it very likely that you will spend many of your days simply exploring the Lefkas coastline!
To the south of Lefkas lies the island of Zakynthos, and a little further Kefalonia. Both are large, well-known touristic islands with a ton of fun things to do, beautiful places to visit, turquoise waters to dive in, and historic sites to visit. In between Lefkas and Kefalonia there are many smaller islands well worth a visit, including the amazing Ithaki and the smaller islands of Kalamos and Kastos.
The Northern Ionian Islands
To the north of Lefkas lies Corfu (where we have our Corfu charter base), the largest of the Ionian islands, and hands-down the most cosmopolitan of them all. Over the course of its long and distinguished history, Corfu, or Kerkyra, has experienced Italian, French and English rule, each leaving a very distinct imprint on the island and its inhabitants. A mixture of different civilizations and cultures blended together into an amalgam that is undoubtedly Greek in character, and yet truly unique from the rest of Greece.
Getting to Corfu will usually take you through the mainland ports of northern Greece, including Syvota and Parga, thus allowing you to explore the amazing islands of Paxoi and Antipaxoi along the way.