Preveza is perfect for exploring the Ionion Islands!
Preveza town is located at the mouth of Amvrakikos Gulf, in Western mainland Greece, an area blessed with beautiful green landscapes, great beaches and a rich history.
Our fleet in Preveza is located at the main Preveza Port, offering plenty of options for shopping and dining before or after your charter.
Our Charter Fleet in Preveza
Our boats in Preveza are available for both skippered and bareboat rentals and include a wide variety of our most popular sailing yachts and catamarans. Special charter arrangements are also available including single day charters for sightseeing and rentals for special events including weddings and honeymoon trips.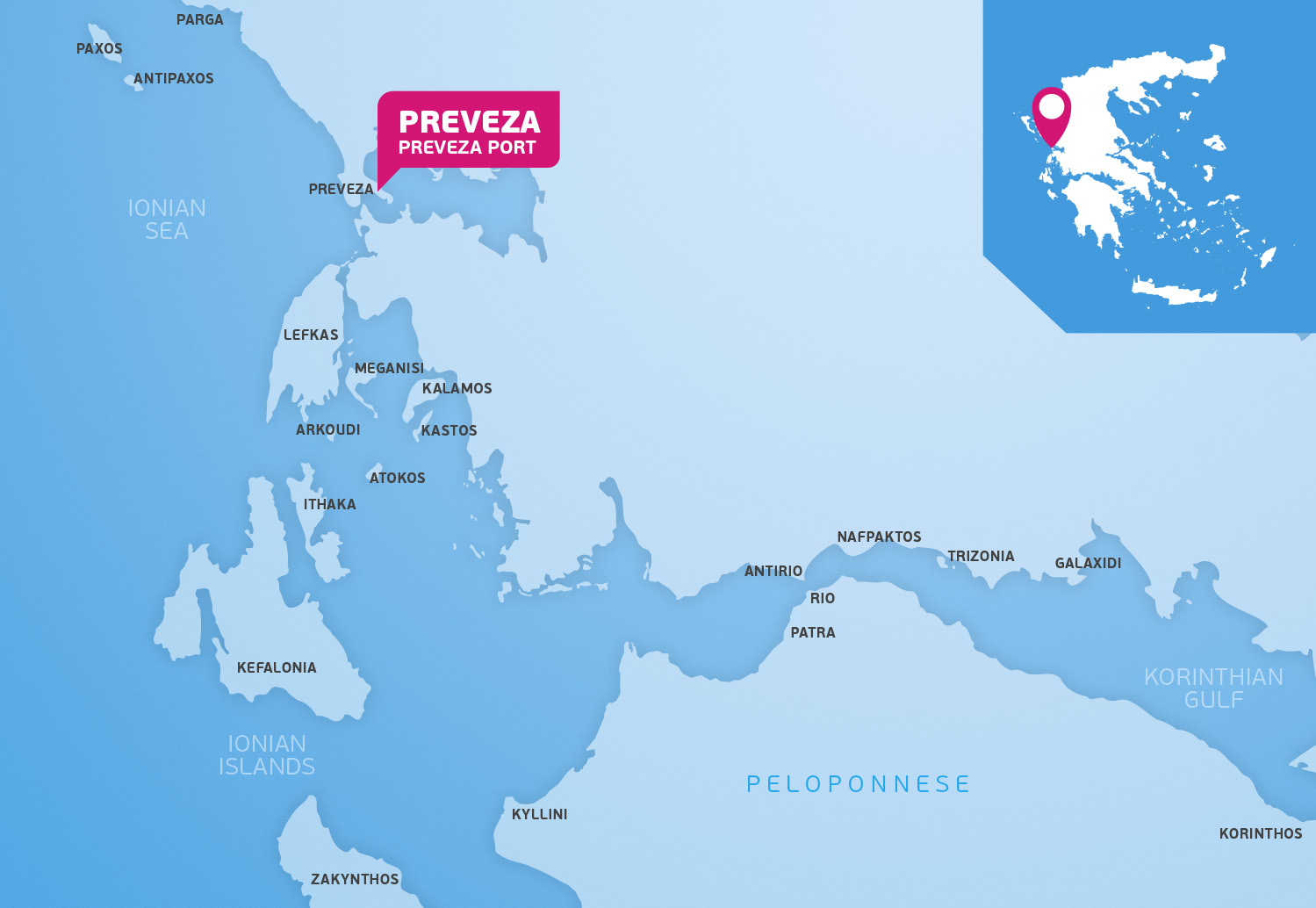 Getting to our Preveza Charter Base
The airport of Aktion (Preveza) is located just 6 km from the port and it is a ten minute taxi drive from airport arrivals to our base. The base's close proximity to Aktion airport, which has many summer charter flights from all around Europe, make it an ideal starting point for exploring the Ionian by boat.
If you are arriving as a group, we are happy to organize a private transfer for you from the airport by minibus with our reliable partners. So simply let us know the details of your arrival and we will advise accordingly.
Sailing Itineraries from Preveza
Charterers from Preveza face the truly pleasant problem of having so many fantastic route options to choose from, either to the south toward Lefkas and Kefalonia or to the north towards Corfu. Given the mesmerizing beauty of both routes that is a tough choice indeed if you only have one week - so take two weeks if you can! Keep in mind that Istion also maintains charter bases on both Corfu and Lefkas, special one way offers may be available, feel free to ask!
The Northern Ionian Islands
North of Preveza lies Corfu, the largest of the Ionian islands and known for being the most cosmopolitan of all. Over the course of its long history, the island has been occupied by Italian, French and English powers. A mixture of different civilizations and cultures blended together into a character that is undoubtedly Greek and truly unique.
Getting to Corfu will usually take you through the mainland ports of northern Greece including Syvota and Parga and allows you to explore the amazing islands of Paxoi and Antipaxoi along the way.
The Southern Ionian Islands
Right next to Preveza lies Lefkas with its amazing, world famous beaches and plenty of small coves to explore!
 South of Lefkas are Zakynthos and Kefalonia. Both are large, well-known islands with plenty of things to do and sites to visit. In between Lefkas and Kefalonia are many smaller islands well worth a visit, including the amazing Ithaki and the smaller islands of Kalamos and Kastos.