Explore the Dodecanese Islands from Rhodes!
Rhodes is undoubtedly the most popular, cosmopolitan island of the Dodecanese. It features one of the most well-preserved medieval castles in Europe (a World Heritage Site in fact), a castle that is still pretty much the center of the main city of Rhodes. Once the base of operations of the Knights Order of Saint John, the Medieval Old Town is now packed with restaurants, bars and sun-baked, bougainvillea-filled verandas. Studded with monuments from the classical to the hellenistic to Byzantium to crusader and ottoman times, Rhodes is definitely a must for anyone even remotely interested in history.
Our yacht charter base on the island of Rhodes is perfect for exploring the Dodecanese Islands including the popular islands of Kos and Patmos, as well as the relaxed islands of Leros and Symi.
Rhodes is easily accessible by charter flights from many European countries and is a short connecting flight for those flying in to Athens.
Our Charter Fleet in Rhodes
Our boats in Rhodes are available for both skippered charters and bareboat hire and include a variety of our most popular sailing yachts and catamarans. Special charter arrangements are also available including private day trips and tours and rentals for special events including company excursions, weddings and honeymoon trips.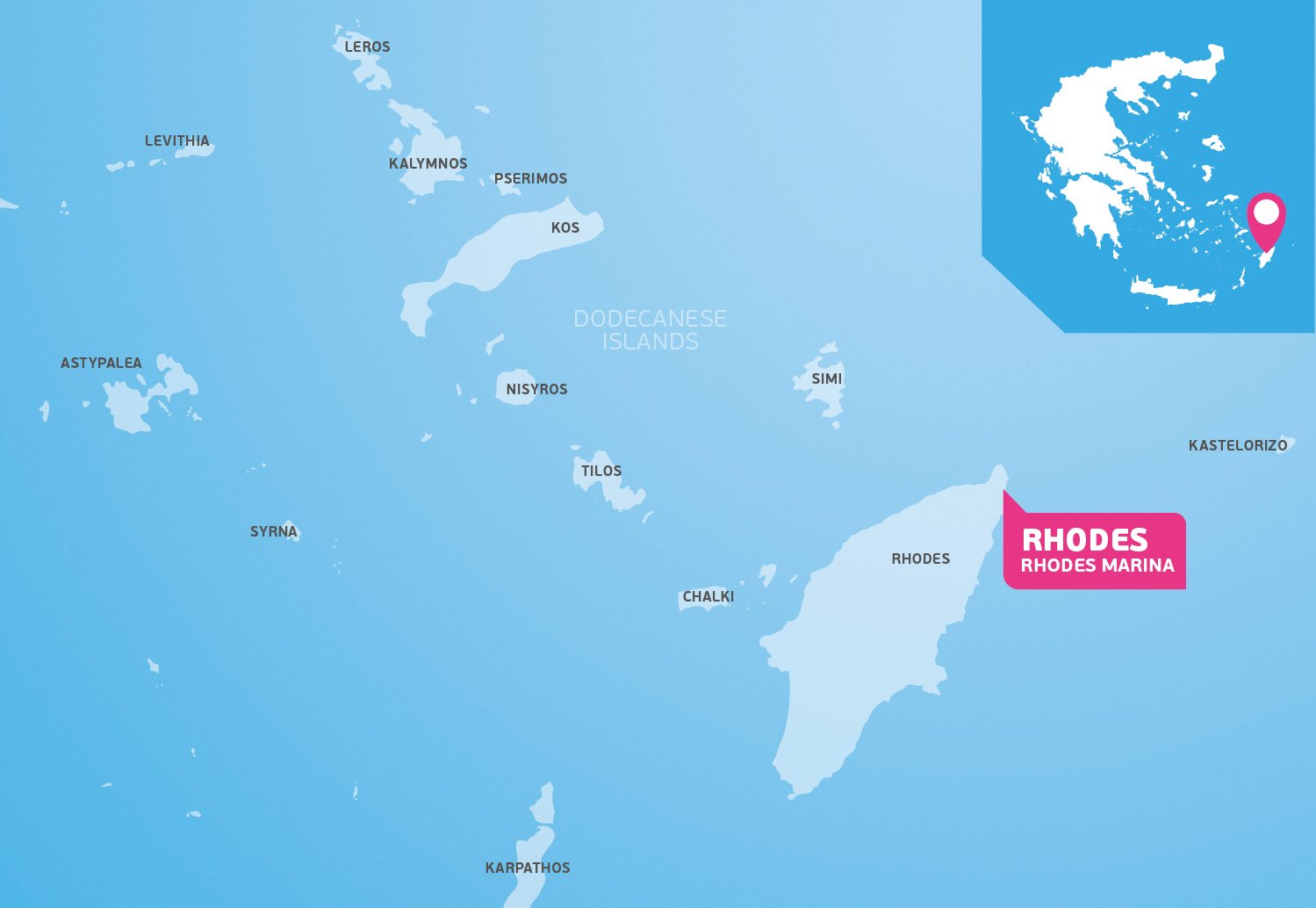 Getting to New Rhodes Marina
Our fleet base is at the New Rhodes Marina, located in the northeast tip of the island, with shopping and dining options in the vicinity aplenty. Most visitors to Rhodes arrive via the Rhodes Airport, which is 22kms from the marina, less than half an hour taxi drive.
Public transport options are also available. If you are arriving as a group, we are happy to organize a private transfer for you from the airport by minibus with our reliable partners. Just let us know the details of your arrival and we will advise accordingly.
See more details and reviews on our Rhodes Charter base Google Maps listing.
Meet the Istion Team at Rhodes Marina
Welcome to Rhodes Marina, where your unforgettable sailing holiday will begin! Led by our base manager, Manolis, and supported by a dedicated team, we strive to make every moment of your time in Greece exceptional. Together, our goal is to deliver an unforgettable sailing adventure, with a focus on exceptional service, support, and a carefree experience you'll treasure forever.
Sailing Itineraries from Rhodes
Rhodes is the largest island of the Dodecanese, and, apart from a unique place sail around itself, a perfect starting point for exploring the surrounding islands and enjoying probably the most crystal-clear waters you have ever sailed in. All of the 14 beautiful, unique islands in the Dodecanese are worth visiting and sailing around. One who wishes to see most, if not all, of the marvels we call the Dodecanese, should reserve sufficient time to do so, which is precisely our first and foremost recommendation!
One week charters from Rhodes will usually include heading north towards Kos with stops at the islands of Symi and its picturesque harbor of breathtaking beauty, the island of Nysiros and its still active volcano, and the laid-back, unassuming island beauties of Tilos and Halki. We also have a charter base on Kos, so keep an eye out for special one way offers from Rhodes to Kos if you have a flexible itinerary!
Two week charter plans can incorporate the islands of Kalymnos further north, with its rich tradition of sponge fishing, laid back Leros, and the beautiful island of Patmos with its famous 13th century Monastery of Saint John. Each of these islands can easily fill up days of your time! So feel free to plot any course you like, and in case you need advice or possible route suggestions, simply ask us!
During summer the prevailing wind in the area is the annual Meltemi that blows strong, usually at force 4-6, from the North West. During spring and autumn, the wind usually blows from the South East at about force 2-4. There are numerous bays and secure anchorages in the Dodecanese Islands where you can find shelter in case of rough winds.