Explore the Ionian islands from Corfu
Corfu (Kerkyra) is a large island rich in history and natural beauty, offering numerous historical towns and diverse landscapes and beaches to explore. The island also serves as an ideal charter base due to its strategic location and well-equipped marinas. Its proximity to the rest of the stunning Ionian Islands, as well as popular Greek mainland spots, makes it a perfect starting point for unforgettable sailing adventures.
Our yacht charter base on the island of Corfu is perfect for exploring the surrounding area and for trips further south to other popular islands including Lefkas, Kefalonia and Zakynthos as well as many more smaller islands in between. We are happy to suggest itineraries, but you are free to choose which islands you visit and which route you take. Corfu is easy to get to with charter flights from many European countries flying directly to the island.
Our fleet in Corfu is located at Gouvia Marina with plenty of shopping and dining selections and the option to spend a few days exploring the historic town of Corfu before or after your charter.
Our Charter Fleet in Corfu
Our boats in Corfu are available for both skippered and bareboat rentals and include a wide variety of our most popular sailing yachts and catamarans. Special charter arrangements are available including single day trips for sightseeing and rentals for special events including company excursions, weddings and honeymoon trips.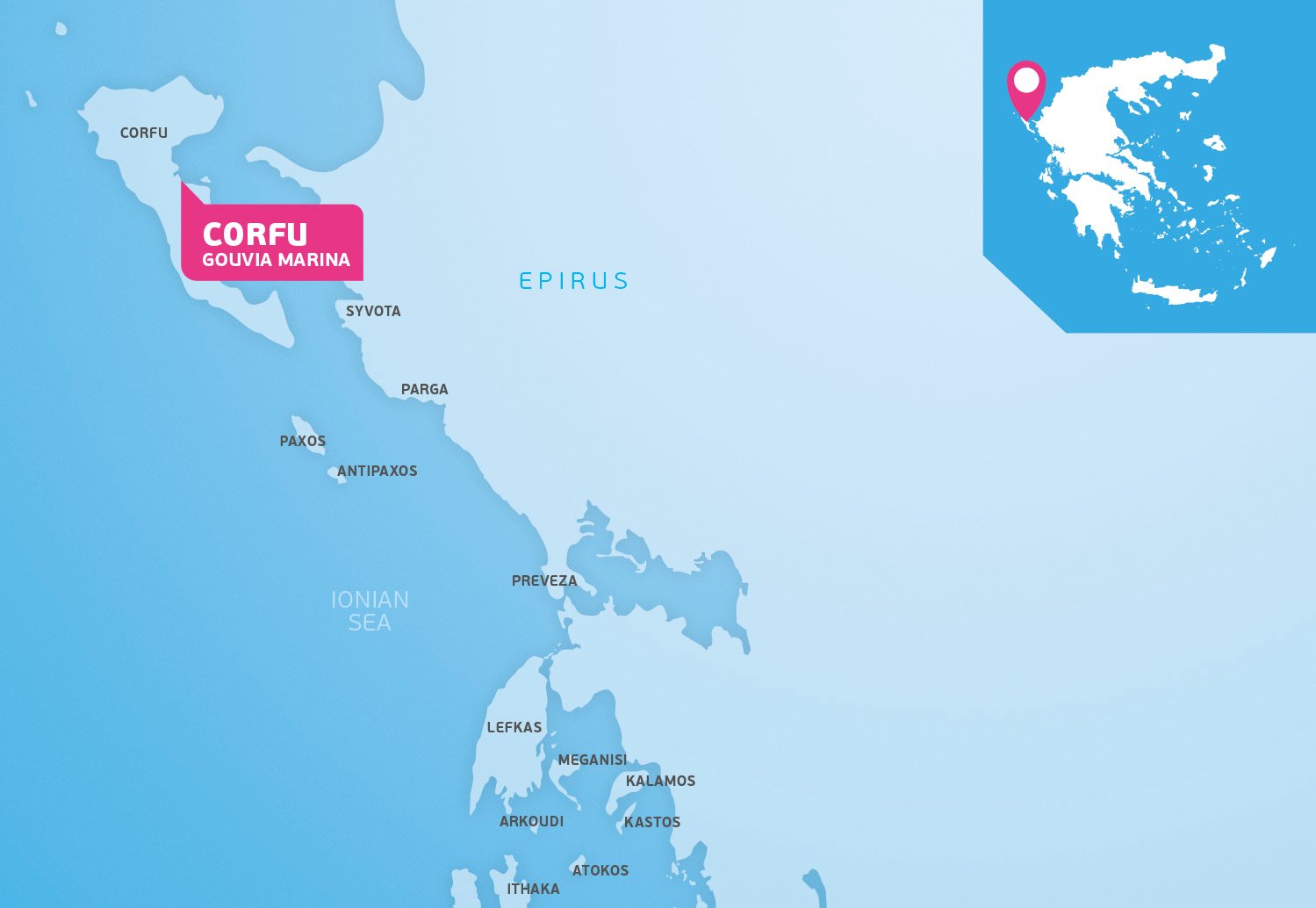 Arriving at Gouvia Marina
Gouvia Marina is located on the east side of the island and just 7kms from the Corfu airport where charter flights arrive. The marina is a short 15 minute taxi ride from the airport arrivals exit. Public transport options are also available.
If you are arriving as a group, we are happy to organise a private transfer for you from the airport by minibus with our reliable partners, simply let us know the details of your arrival and we will advise accordingly.
See more details and reviews on our Corfu Charter base Google Maps listing.
Meet the Istion Yachting Team in Corfu
Welcome to Gouvia Marina, where your unforgettable sailing holiday from Corfu will begin! Led by our base manager, Dimitris, and supported by a dedicated team including Eva, Beatrice, Kostas, Panagiotis and Takis, we strive to make every moment of your time in Greece exceptional. Together, our goal is to deliver an unforgettable sailing adventure, with a focus on exceptional service, support, and a carefree experience you'll treasure forever.
Sailing Itineraries from Corfu
With a one-week yacht charter, you will typically sail along the coast of Corfu and potentially down to Lefkas. As you sail towards Lefkas, you'll pass by charming mainland ports like Syvota and Parga, which offer a unique blend of coastal beauty and Greek hospitality. Along the way you will also be able to make stops at the mesmerizing islands of Paxoi and Antipaxoi.
With a two-week charter, you can certainly extend your journey to include Lefkas and also potentially further south to the well-known islands of Kefalonia and Zakynthos which boast an abundance of activities and sights to visit. In between Lefkas and Kefalonia, you'll find several smaller islands worth visiting, including the legendary Ithaki, as well as the charming islands of Kalamos and Kastos. With crystal-clear waters, stunning landscapes, and a rich history, the Southern Ionian Islands promise an unforgettable sailing experience.
Below we present a sample one week sailing itinerary from Corfu. The beauty of sailing is the freedom, so feel free to ask us for more recommendations or to make up a tailor made itinerary just for you. For those with flexible schedules, keep an eye out for early and late-season one-way offers, as we also maintain charter bases in both Lefkas, as well as a smaller base in nearby Preveza.
Sample One Week Sailing Itinerary from Corfu
This one-week itinerary from Corfu is just one example of the nearly endless supply of possible routes you can explore when chartering a yacht. With the freedom and flexibility that come with having your own yacht, you can tailor your journey to suit your own interests and desires. Whether you're seeking serene, secluded bays or bustling marinas and vibrant nightlife, the Ionian islands offer a truly diverse range of experiences. If you're looking for more inspiration or guidance, we are more than happy to recommend our favourite spots and routes based on our 30+ years of experience sailing in the area. Embark on a memorable adventure and create an itinerary that's uniquely yours!
Day 1: Gouvia Marina to Agios Stefanos Bay (15 NM, 3 hours)
Begin your sailing adventure by embarking from Gouvia Marina and setting sail towards the picturesque Agios Stefanos Bay on the northwestern coast of Corfu, covering about 15 nautical miles in approximately 3 hours. You will enjoy the breathtaking views of the Corfu coastline and the Ionian Sea along the way. Anchor in the sheltered bay for the night and explore the charming village of Agios Stefanos, known for its traditional tavernas and beautiful beaches.
Day 2: Agios Stefanos to Petriti Bay (25 NM, 5 hours)
Set sail from Agios Stefanos towards Petriti Bay on the southeastern coast of Corfu, covering 25 nautical miles in around 5 hours. Along the way, you'll pass picturesque fishing villages. lush green hills and plenty of spots to stop for a swim. Upon arrival in Petriti Bay, enjoy the serene atmosphere and crystal-clear waters. Visit the local tavernas, offering fresh seafood and traditional Greek dishes. Anchor for the night and enjoy the tranquility of this beautiful bay.
Day 3: Petriti Bay to Syvota (15 NM, 3 hours)
Depart from Petriti Bay and head towards the bustling mainland town of Syvota, a journey of 15 nautical miles that should take around 3 hours. Syvota is a popular destination with beautiful beaches and coves, surrounded by green hills and olive groves. Explore the lively waterfront, visit local shops, and dine at the numerous waterfront tavernas. Anchor at the marina for the night, taking in the vibrant atmosphere.
Day 4: Syvota to Lakka Bay (20 NM, 4 hours)
Leave Syvota Marina behind and sail towards the idyllic Lakka Bay on the northern tip of Paxoi Island. Covering 20 nautical miles in about 4 hours, you'll navigate through stunning turquoise waters and pass by small, picturesque islets. Lakka Bay is known for its crystal-clear waters and vibrant waterfront. Anchor in the bay, explore the village, and sample local cuisine at the tavernas.
Day 5: Lakka Bay to Gaios Port (9 NM, 2 hours)
Set sail from Lakka Bay to Gaios Port on the southern end of Paxoi Island, a short journey of 9 nautical miles that should take around 2 hours. Gaios is a charming port town with a rich history and stunning Venetian architecture. Wander through the narrow streets, visit the local shops, and enjoy the lively atmosphere at the waterfront bars and restaurants. Anchor in the port for the night.
Day 6: Gaios Port to Parga (25 NM, 5 hours)
Leave Gaios Port and head towards the mainland, arriving at Parga after a 25-nautical-mile sail that takes about 5 hours. Parga is a picturesque town with a rich history, dominated by the impressive Venetian Castle. Anchor in the bay near the castle, and take a sea taxi ashore to explore the cobbled streets, vibrant waterfront, and historical sites. Don't forget to visit the castle itself for panoramic views of the Ionian Sea.
Day 7: Parga to Garitsa Bay and Gouvia Marina (35 NM, 7 hours)
On the final day of your sailing adventure, set sail from Parga towards Garitsa Bay, located near the historic Corfu Castle. Covering 35 nautical miles in approximately 7 hours. Be sure to get started early to allow time for swimming stops along the southern coast of Corfu as you make your way back to Gouvia Marina for disembarkation.