Explore the Ionian islands from Corfu!
Our charter base on the island of Corfu is perfect for exploring the surrounding area and for trips further south to other popular Ionion Islands including Lefkas (Lefkada), Zakynthos and Kefalonia as well as many more smaller islands in between! You are free to choose which islands you visit and which route you take! Corfu is a popular destination with charter flights from many European countries flying directly to the island.
Our fleet in Corfu is located at Gouvia Marina with plenty of options for shopping and dining before or after your charter.
Our Charter Fleet in Corfu
Our boats in Corfu are available for both skippered hire and bareboat rentals and include a wide variety of our most popular sailing yachts and catamarans. Special charter arrangements are available including single day charters for sightseeing and rentals for special events including company excursions, weddings and honeymoon trips.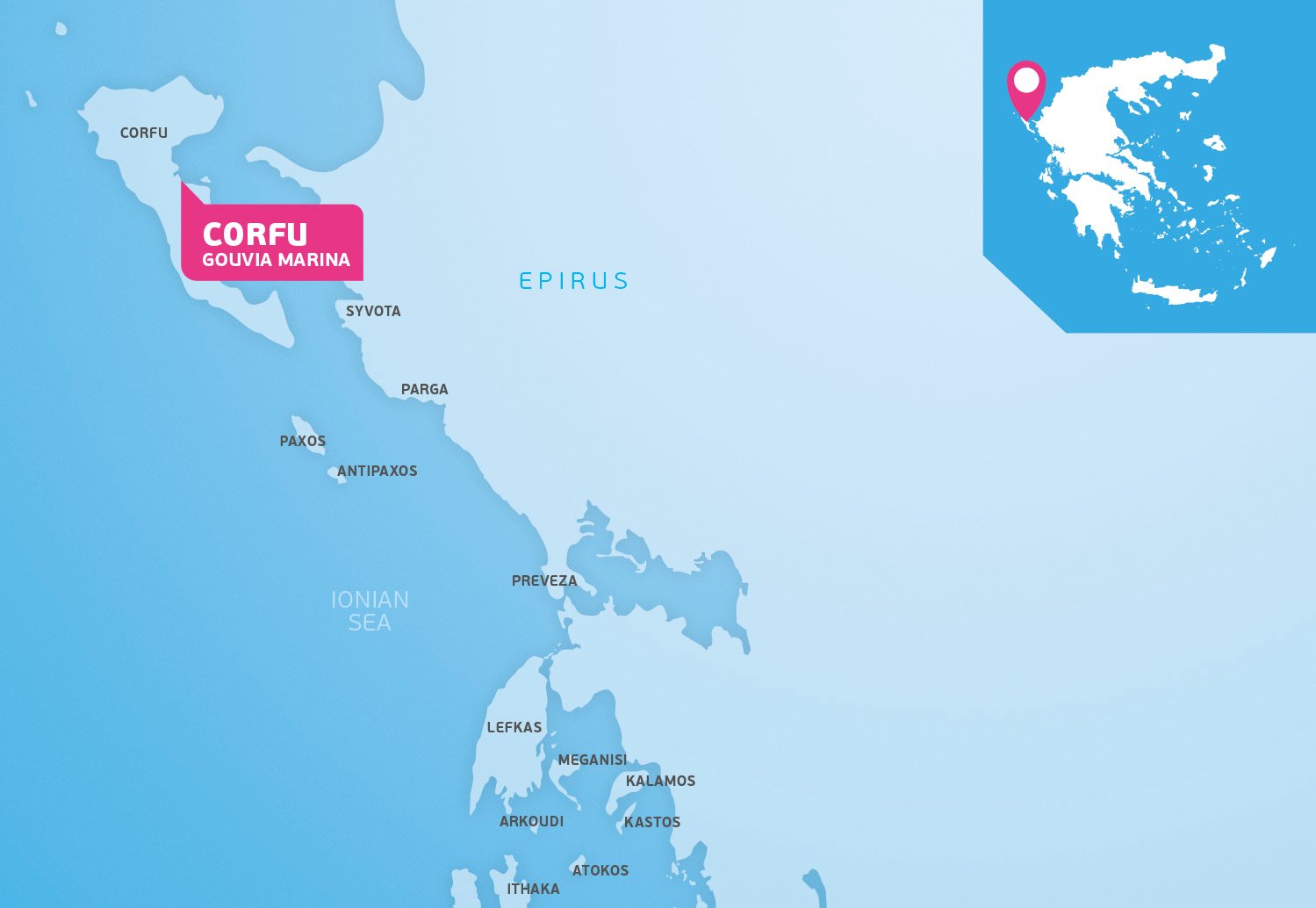 Getting to Gouvia Marina
Gouvia Marina is located on the east side of the island and just 7kms from the Corfu airport where charter flights arrive. The marina is a short 15 minute taxi ride from the airport arrivals exit.
Public transport options are also available. If you are arriving as a group, we are happy to organize a private transfer for you from the airport by minibus with our reliable partners, simply let us know the details of your arrival and we will advise accordingly.
Sailing Itineraries from Corfu
From our base in Corfu sailors with one week typically take in the coast of Corfu and may head down to Lefkas and back. Two week charters can reach the islands further south including Kefalonia and Zakynthos.
The Northern Ionian Islands around Corfu
Corfu has many amazing coves and beaches to explore and is a large island that can easily take many days to explore. Heading down to Lefkas will usually take you through the mainland ports of northern Greece including Syvota and Parga and allows you to explore the amazing islands of Paxoi and Antipaxoi along the way. Istion also has a charter base in Lefkas and a smaller base in Preveza, so keep an eye out for early/late season one way offers that are sometimes available!
The Southern Ionian Islands
South of Lefkas are Zakynthos and Kefalonia. Both are large well known islands with plenty to of things to do and sites to visit. In between Lefkas and Kefalonia are many smaller islands well worth a visit including the amazing Ithaki and the smaller islands of Kalamos and Kastos.