Explore the Cyclades from Lavrion!
Lavrion is a picturesque port at the very south end of Attica and just half an hour by taxi from the Athens Airport. Compared to other marinas in the Athens area Lavrion offers closer proximity to the Cyclades Islands, thus making it an ideal starting point for sailing to the Cyclades archipelago, the outer islands of which, such as Kea and Kythnos, you can reach within just 3 hours of sailing.
Starting and ending a sailing vacation from Lavrion can be ideally combined with a visit to the famous ancient temple of Poseidon at Cape Sounion. This impressive archaeological site lies in close driving distance from Lavrion and is also accessible by sea while leaving or returning from your sailing holiday. Not to be missed!
Our Charter Fleet in Lavrion
Our fleet in Lavrion includes brand new sailing yachts and catamarans that can satisfy even the most demanding sailing enthusiasts. Our charter base supports both bareboat and skippered charters, so all you have to do is simply choose your boat or contact us for advice!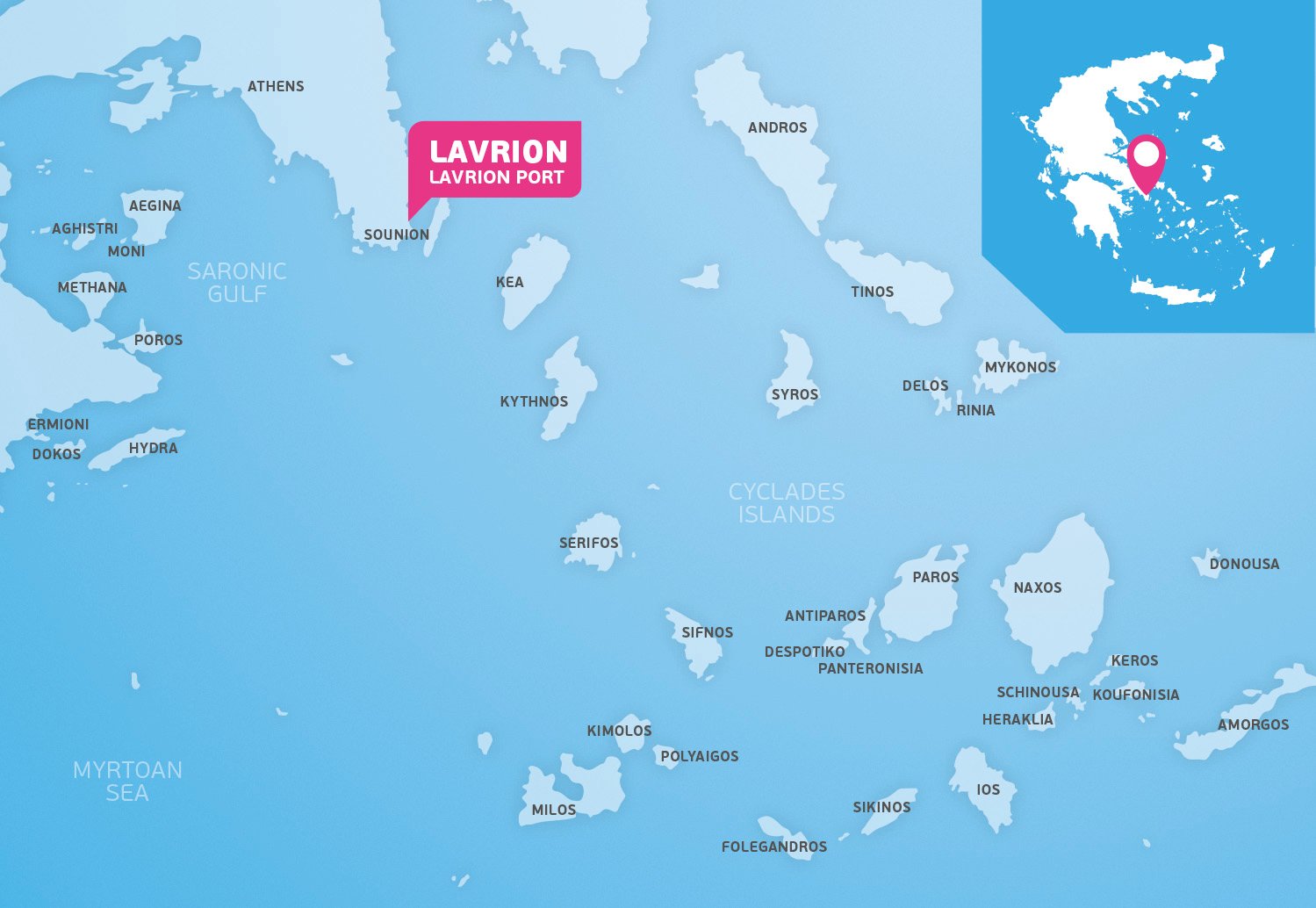 Getting to Lavrion
If you are heading to our Lavrion base straight from the Athens Airport, then the easiest way to do so is by taxi, which is normally a 30-minute drive. Public transport options are also available. If you are arriving as a group, we are happy to organize a private transfer for you from the airport by minibus. So simply let us know the details of your arrival and we will advise accordingly.
See more details and reviews on our Lavrion Charter base Google Maps listing.
Sailing Itineraries from Lavrion
Sailing from Lavrion usually means visiting the Cyclades, some of the most famous islands in the Aegean, and indeed the world! Lavrion is ideally situated at the south eastern tip of Attika, just 3 hours sailing to Kea (Tzia) and the start of your Cycladic adventure! Keep in mind that Istion also has a charter base in Alimos Marina and one way charters are occasionally available starting from Lavrion and ending in Alimos (or vice versa) usually for early and late season charters. They can be a good option for those who want to maximise their sailing time without having to backtrack!
The Cyclades
The Cyclades is a group of Islands lying amidst the amazing Aegean Sea. They are world famous for the beauty of the rough rocky landscape merging with the crystal-clear sea, the traditional white-washed houses and windmills, and the endless possibilities they offer for exploring, sightseeing. Needless to say, some of the islands are well-known, to put it mildly, for their pumping nightlife!
Cruising in this archipelago definitely requires skilled, experienced sailors as the winds, especially in July and August, could easily reach Force 6-7 N-NW, with the norm being Force 4-5 N-NW (Meltemi annual winds). If you decide to sail the Cyclades you should not miss Paros, Santorini, Mykonos, Serifos and Milos. Although, to be perfectly honest, every island in the Cyclades is a hidden gem waiting to be discovered!