Explore the Cyclades from Lavrion!
Lavrion is a picturesque port at the very south end of Attica and just half an hour by taxi from the Athens Airport. Compared to other marinas in the Athens area Lavrion offers closer proximity to the Cyclades Islands, thus making it an ideal starting point for sailing to the Cyclades archipelago, the outer islands of which, such as Kea and Kythnos, you can reach within just 3 hours of sailing.
Starting and ending a sailing vacation from Lavrion can be ideally combined with a visit to the famous ancient temple of Poseidon at Cape Sounion. This impressive archaeological site lies in close driving distance from Lavrion and is also accessible by sea while leaving or returning from your sailing holiday. Not to be missed!
Our Charter Fleet in Lavrion
Our fleet in Lavrion includes brand new sailing yachts and catamarans that can satisfy even the most demanding sailing enthusiasts. Our charter base supports both bareboat and skippered charters, all you have to do is simply choose your boat or contact us for advice!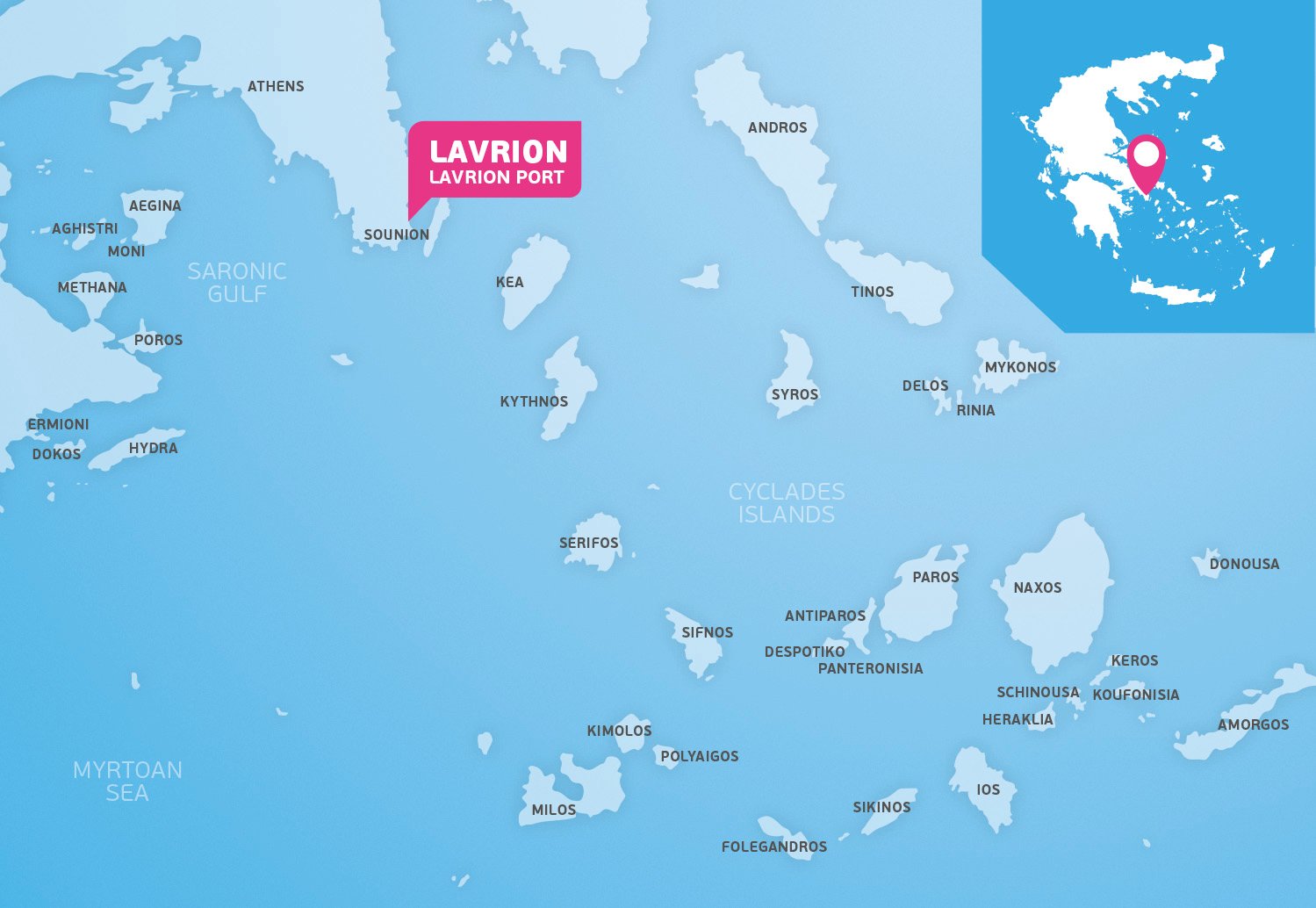 Getting to Lavrion
If you are heading to our Lavrion base straight from the Athens Airport, then the easiest way to do so is by taxi, which is normally a 30-minute drive. Public transport options are also available. If you are arriving as a group, we are happy to organise a private transfer for you from the airport by minibus. So simply let us know the details of your arrival and we will advise accordingly.
See more details and reviews on our Lavrion Charter base Google Maps listing.
Meet the Istion Team at Lavrion Marina
Welcome to Lavrion Marina, where your unforgettable sailing holiday will begin! Led by our base manager, Yiannis, and supported by a dedicated team including Filio and Lazaros, we strive to make every moment of your time in Greece exceptional. Together, our goal is to deliver an unforgettable sailing adventure, with a focus on exceptional service, support, and a carefree experience you'll treasure forever.
Sailing Itineraries from Lavrion
Sailing from Lavrion usually means visiting the Cyclades, some of the most famous islands in the Aegean, and indeed the world! Lavrion is ideally situated at the south eastern tip of Attika, just 3 hours sailing to Kea (Tzia) and the start of your Cycladic adventure! Keep in mind that Istion also has a charter base in Alimos Marina and one way charters are occasionally available starting from Lavrion and ending in Alimos (or vice versa) usually for early and late season charters. They can be a good option for those who want to maximise their sailing time without having to backtrack!
The Cyclades
The Cyclades is a group of Islands lying amidst the amazing Aegean Sea. They are world famous for the beauty of the rough rocky landscape merging with the crystal-clear seas, the traditional white-washed houses and windmills, and the endless possibilities they offer for exploring and sightseeing. Needless to say, some of the islands are well-known, to put it mildly, for their nightlife (Mykonos anyone?).
Cruising in this archipelago definitely requires skilled and experienced sailors as the winds, especially in July and August, can easily reach Force 6-7 N-NW, with the norm being Force 4-5 N-NW. These are the annual winds known in Greece as the Meltemi. If you need a helping hand, our experienced skippers are available to take care of the sailing and show you the best hidden spots. With over 200 islands and islets, the Cyclades are a gem waiting to be discovered!
Sample 7 Day Itinerary from Lavrion
Day 1 - Lavrion Port to Tzia
On the first day of your sailing trip from Lavrion we sail to the island of Tzia, also known as Kea. Choose to moor at either Vourkari Port or Korissia, or anchor in the bay in front of the port. Tzia is a picturesque island with traditional Cycladic architecture, charming villages, and pristine beaches. Spend the night exploring the local taverns, cafes, and shops or relax on the beach and enjoy the serene atmosphere.
Day 2 - Tzia to Serifos
On the second day, sail from Tzia to Serifos, a beautiful island known for its stunning beaches and rich history. Moor at Serifos Port, also called Livadi, which is a lively harbor with a variety of restaurants and bars. Explore the island's captivating Chora, which is perched on a hilltop, offering amazing views of the surrounding area. Discover the medieval Venetian castle and walk through the winding streets to admire the traditional Cycladic architecture.
Day 3 - Serifos to Kimolos or Polyaigos Bay
On day three, leave Serifos and head towards either Kimolos or Polyaigos Bay. Kimolos is a charming, unspoiled island with crystal-clear waters and a quaint village called Chorio. Polyaigos, on the other hand, is an uninhabited island with astonishingly beautiful beaches and bays, perfect for swimming and snorkeling. Whichever destination you choose, you will be captivated by the natural beauty and tranquility of these hidden gems.
Day 4 - Kimolos or Polyaigos to Milos
On the fourth day, sail to Milos, an island famous for its diverse and dramatic coastline. Stop at Kleftiko Bay, a unique geological formation with turquoise waters and impressive rock formations, ideal for swimming and snorkeling. After enjoying Kleftiko, head to Adamantas, Milos' main port, where you can spend the night. Explore the town's vibrant waterfront, filled with restaurants, bars, and shops.
Day 5 - Milos to Sifnos
On day five, leave Milos behind and sail to Sifnos, an island known for its traditional pottery, excellent cuisine, and lovely beaches. Moor at Sifnos Port, also called Kamares, and enjoy its sandy beach and crystal-clear waters. Wander through the picturesque alleys of Apollonia, Sifnos' capital, and visit the historic monastery of Panagia Chrysopigi, perched on a rocky promontory.
Day 6 - Sifnos to Kythnos (Kolona Bay)
Depart from Sifnos and head to Kythnos, a lesser-known island with a laid-back atmosphere and stunning beaches. Anchor at Kolona Bay, a unique double-sided beach with turquoise waters and golden sands, perfect for swimming and sunbathing. Visit the nearby villages of Chora and Driopida, which boast traditional architecture, narrow streets, and friendly locals.
Day 7 - Kythnos to Sounio and back to Lavrion
On your final day, sail from Kythnos to Cape Sounio, a famous archaeological site on the southern tip of Attica. Stop for swimming and lunch near the Temple of Poseidon, an impressive ancient temple with breathtaking views of the Aegean Sea. After enjoying your time at Sounio, continue sailing back to Lavrion, where the Istion Yachting team will be ready to greet you and hear your stories of adventure as you disembark.